I've written this before, but it bears repeating: now is the time to bet on the Broncos to win the Super Bowl.
DraftKings has their odds at +2500. A $100 bet would net $2500 in profits. 
You know what this is about – it's completely a bet on the Broncos landing the disgruntled Aaron Rodgers in a trade from Green Bay.
Denver currently has the best non-Packers odds to land last season's MVP, at +150.
My colleague, Timothy Kim, just covered these odds and his thoughts earlier today.
Why bet those odds, when Rodgers landing in Denver would immediately vault them into the Super Bowl favorite category?
Let me once again make my case for you to join me on this Broncos future.
The Roster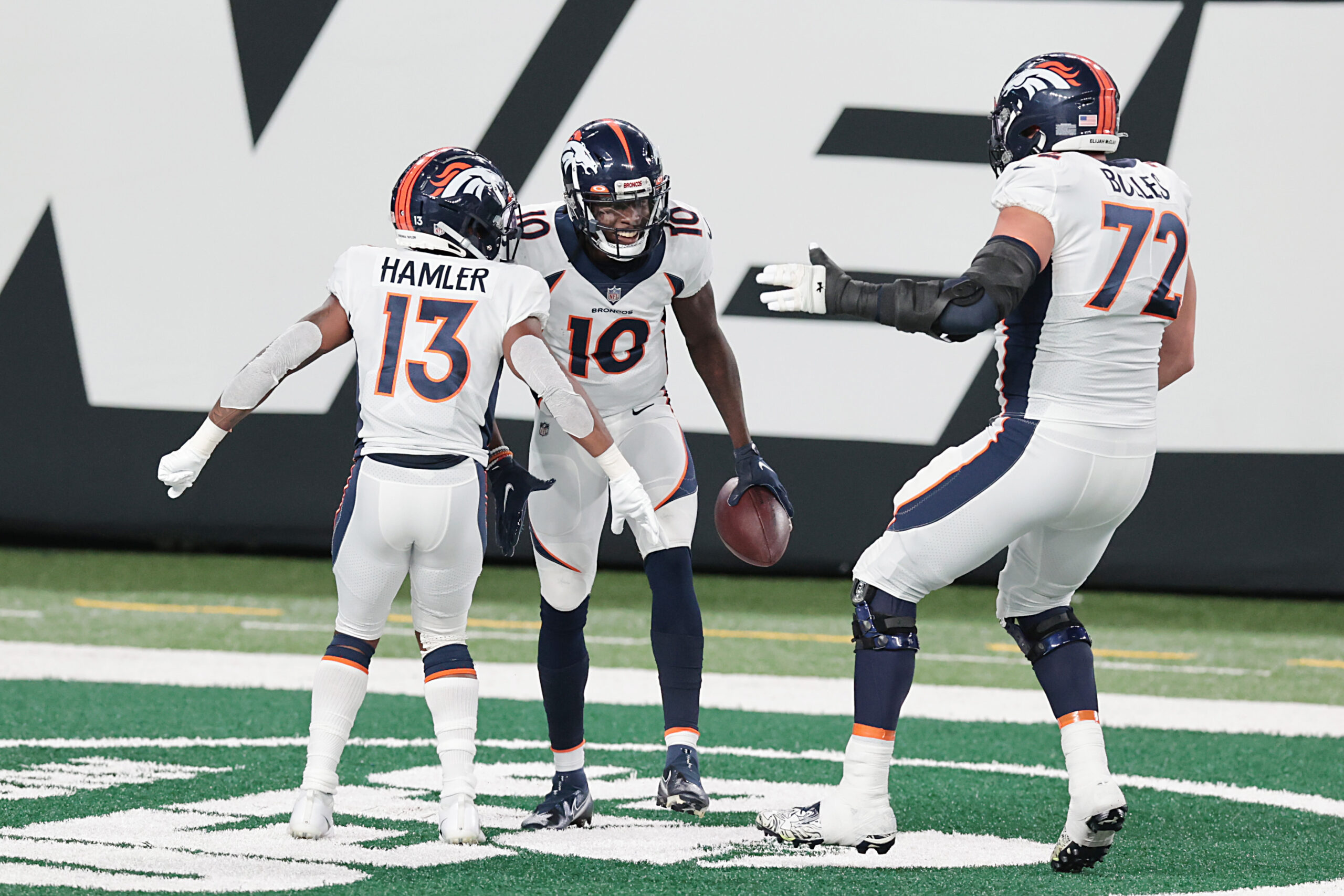 Obviously, any trade for Rodgers would likely include at least one player of impact. Let's work under the assumption that the base of the trade is the inevitable first round picks it would take to get Rodgers.
This is a loaded roster on both ends, with the lone deficiency likely an average at best offensive line.
The defense ranked sixth overall on PFF last season and will only grow stronger with the addition of cornerback Patrick Surtain in the draft, who many considered the top defensive player in the draft.
This Broncos offense has an enviable set up. Denver has four wide receivers in Courtland Sutton, Jerry Jeudy, Tim Patrick and KJ Hamler that can all put a wear on an opposing secondary.
Weapons like that in the passing game, plus tight end Noah Fant, would certainly appeal to Rodgers, assuming he has a say in his next destination.
Add in rookie second-round pick Javonte Williams, a strong runner from UNC, and this offense is about to take off.
The Schedule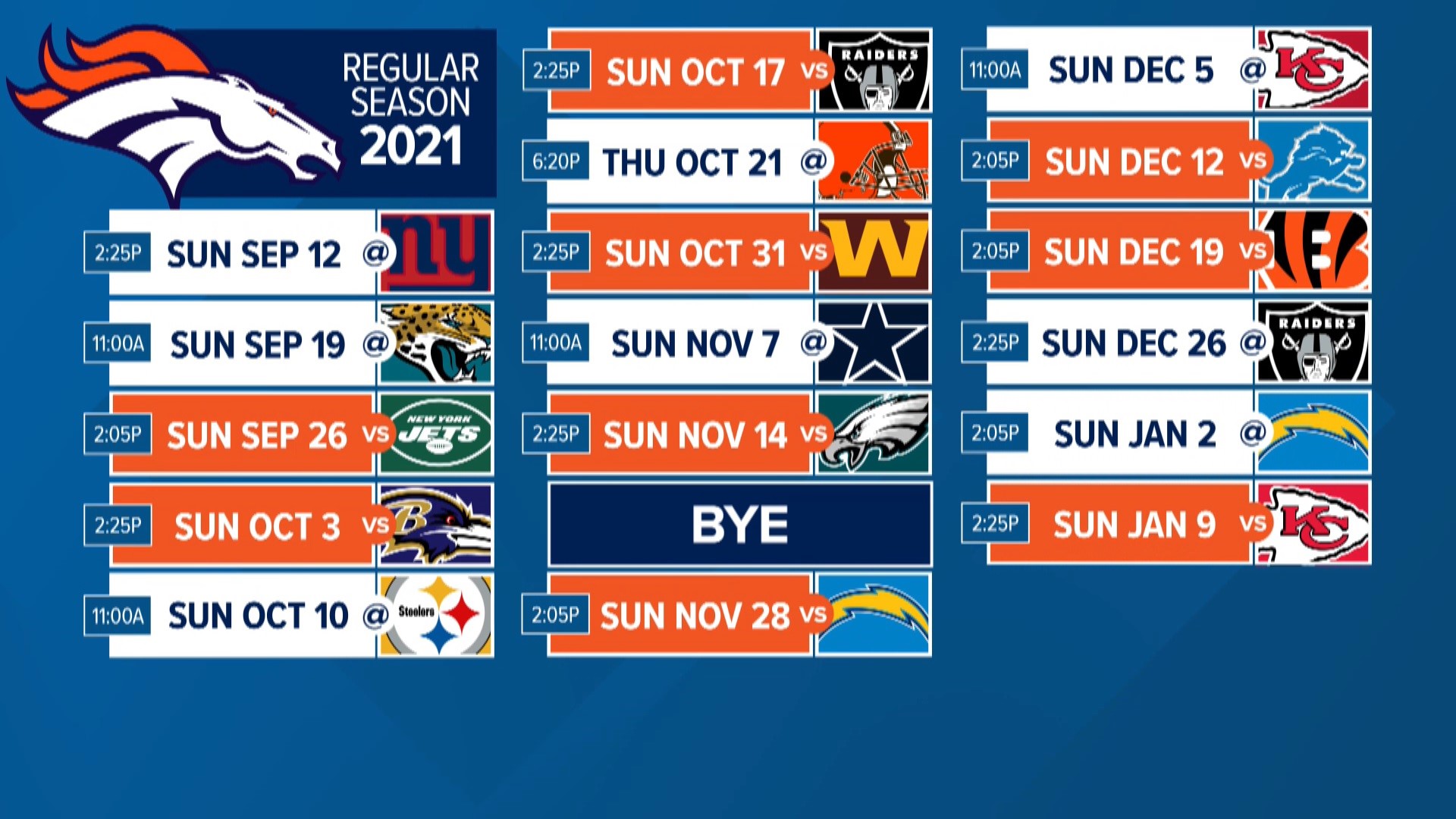 I've crunched the numbers from the past few years and have definitively concluded that to win the Super Bowl, you first need to win regular season games and make the playoffs.
Let's first acknowledge that the AFC West is a strong division. We have Patrick Mahomes and the Chiefs, who you may be aware have represented the AFC in the Super Bowl the last two seasons.
There's also the up-and-coming LA Chargers, led by 2020 Rookie of the Year Justin Herbert. They should take a leap this season.
The Raiders don't scare me at all, so let's say a Broncos team with Rodgers wins both against Vegas and splits the other two for a 4-2 record in the division (3-3 conservatively).
Elsewhere, the AFC West gets a nice break this season, drawing the NFC East, the worst division in football last season.
The Broncos could easily sweep Washington, Philadelphia, New York and Dallas, and just like that, we've found eight wins.
The AFC North is the other division on the schedule this year, which has some tough teams in Cleveland, Baltimore and maybe Pittsburgh. Let's say they split those games as well – I do like the Browns quite a bit this season.
We're now at 10-4 in this 17-game season.
Ah, the beauty of the last place schedule. In case you don't know, you play one team from the other two divisions in your conference who finished in the same place as you. The 17th game this season uses that same logic, but from a division in the opposite conference.
Denver's last place finish in the AFC West in 2020 will gift them three games against the Jaguars, Jets and Lions.
You couldn't draw up a more desirable slate of opponents.
For the math majors, this 100% accurate model puts Denver at 13-4, or 12-5.
Join Me: Place Your Bet Today
No pressure – but these +2500 odds won't exist if Rodgers is suddenly traded to Denver. I got in at +2800, but these odds were once in the +3000 range. As rumors continue to swirl and the Broncos continue to be the betting favorite to land the three-time MVP, these odds will keep climbing.
This approach has worked for Denver before…see above. They remember that oh so well, trading picks is worth it if it brings another Lombardi Trophy into the building.
Bet responsibly and enjoy adding a second-favorite team to your repertoire for the 2021 season.
Notis are on, @AdamSchefter…
Follow me for more NFL takes on Twitter, @griffybets.
---
Join our Discord
to leave a question or comment regarding this article. We have sports fans talking betting all day — every day! JOIN THE DISCORD NOW AND QUALIFY FOR PRIZES & BETTING SWAG!
---