Last week I wrote a piece getting ready for UFC London, giving people the best bets and predictions for the fight card. I ended up going 4/6 on the night with my best bets, most of them cashing at plus money.
Make sure you stay updated with Betting Blogger to get all the best UFC picks and bets! I'm going to run through the fights and explain what happened and how it all went down. I'll also give you who I think each winner should fight next.
Muhammad Mokaev vs Cody Durden
The hype train has begun, but don't forget; I'm the conductor. I've been watching Mokaev fight for over two years now and have been waiting for him to get a shot in the UFC.
He made his impression quickly by landing a flying knee and then snatching Durden's and choking him out in spectacular fashion. The fight barely lasted 50 seconds.
Now everyone and their mother is going to be high on Mokaev, and I'm fine with that. He deserves it. He's undefeated his entire pro and amateur career and is an incredible all around fighter. 
I'd love to see Mokaev fight a scrappy fighter like Tim Elliott or Manel Kape next.
My predicted Best Bet: Mokaev ITD (-110)
Hit or Miss: Bet Cashes in the first round!
Paul Craig vs Nikita Krylov
This fight started quickly with Krylov jumping on Craig and attacking. For the first four minutes he dominated Craig, landing nasty blows and almost knocking him out. Many people thought that the fight was going to be stopped.
However Paul Craig did what he does best. He pulled a ridiculous submission out of his ass. Craig was being wailed on by Krylov and as the Ukrainian cocked his arm back to land a blow, Craig threw his leg over Krylov's shoulder and locked in a Triangle Choke.
The Scottish submission artist tightened the lock and added brutal punches to Krylov's face. He pulled down Krylov's head and squeezed his legs until the Ukrainian tapped. Paul Craig now has submission or TKO victories over former champion Mauricio Rua, fourth ranked LHW Magomed Ankalaev, and budding star Jamahal Hill.
My predicted best bets: Paul Craig sub (+420) and Under 1.5 rounds (+135)
Hit or Miss: Both Bets CASH
Ilia Topuria vs Jai Herbert
This fight was a lot of fun and way closer than the line suggested. Herbert had a massive reach advantage and used it phenomenally in the first round, stunning Topuria pretty badly. Ilia managed to avoid too much damage and used his grappling to keep his longer opponent at bay.
The second round was a whole different story as Topuria used his stocky stature and massive power to walk in and swing looping punches at Herbert. About one minute into the round he landed a beautiful combination that folded Herbert like a chair.
Jai was out cold immediately and no follow up punches were necessary. Herbert was okay in the end, and Topuria came away with his third straight KO victory.
My Predicted best bets: Topuria ITD (-150) and Under 1.5 (+100)
Hit or Miss: Both bets Cash!
Paddy Pimblett vs Kazula Vargas
This fight started off similar to Paddy's UFC debut, meaning Pimblett struggled at the start. Right off the bat Vargas was able to take down Pimblett and hold him there. He passed guard and started landing blows, but nothing super damaging.
Paddy remained calm while Vargas controlled him and eventually worked his way onto Vargas' back. He synched in a rear naked choke and submitted Vargas before four minutes had gone by.
Paddy's had a good performance but nothing absurd. It was spectacular to see him celebrate with the London crowd but he's fought two less than impressive fighters and has been rocked and taken down in the first round. Granted he got the win both times, but he needs to be careful with the way he fights.
I want to see Paddy fight someone legitimate… Like Terrance Mckinney.
My predicted best bets: Paddy round 1 (+240) or round 2 (+430)
Hit or Miss: Round 1 hits, profit of 1.4 units if betting 1 unit on both
Arnold Allen vs Dan Hooker
At this point in the night I was four for four on predictions, but this is where it got ugly. Dan Hooker has been a contender in two divisions and has fought a murderer's row of talent. He cut back down to 145 for this fight and looked absolutely shredded.
When the bell rang it looked like Hooker wasn't ready to fight. I'm not sure what it is but ever since that war with Dustin Poirier, Hooker has looked very weak. Allen unloaded on Hooker like he owed him money and finished him inside of three minutes.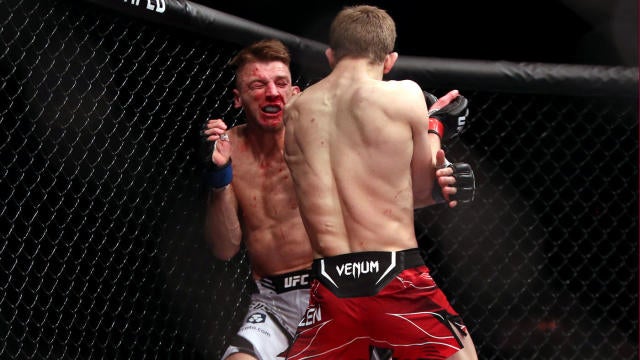 I'm not sure what's going to happen with Hooker but I hope he gets a lesser opponent next time. He's stepped up to fight Islam Makhachev and now Arnold Allen on short notice and deserves an easy win to boost his momentum. He's delivered such fun fights for the UFC in the past and hopefully he can return to form soon.
My predicted best bet: Hooker by decision (+280) or Hooker by TKO (+320)
Hit or Miss: Big miss. 
Tom Aspinall vs Alexander Volkov
Another tough read here. I like Aspinall but I just thought Drago would be too much for him. He was nowhere near too much for the Brit, as Aspinall handled Volkov easily. He pieced him up on the feet and then took him down and mauled him there too.
Aspinall's performance shows he deserves a title shot after his next fight. He should be fighting Cyril Gane, Derrick Lewis, or Tai Tuivasa in his next fight for a title eliminator.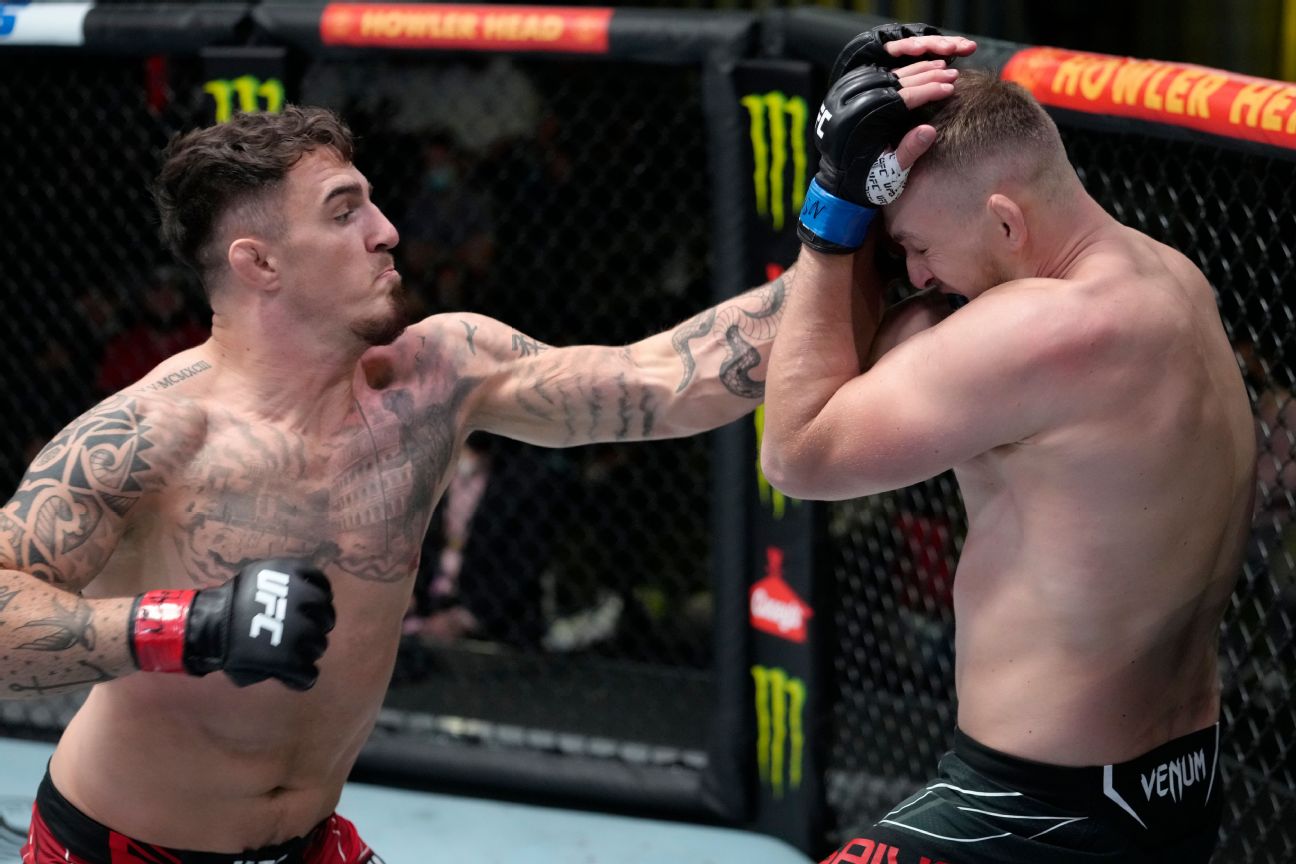 My Predicted Best bets: Volkov ML  (+105)
Hit or Miss: Miss.
This weekend if you tailed all my bets you would be up 8 units. Stay with me at Betting Blogger for all your MMA betting needs!
---
Join our Discord
to leave a question or comment regarding this article. We have sports fans talking betting all day — every day! JOIN THE DISCORD NOW AND QUALIFY FOR PRIZES & BETTING SWAG!
---