The 2021-22 NBA season is fastly approaching. That means it is time to look at some potential bets that need to be made. Planning ahead is never a bad outlook, and that is what this article is all about.
A lot has changed throughout the offseason. More changes can still be coming, but for now, we know each roster and their strengths and weaknesses. We are aware of the top players; and the potential breakout stars.
This upcoming season will be interesting. With that being said, here are the top three bets for next season thus far. Put them in after reading this.
Charlotte Hornets – Over 37.5 Wins
The Charlotte Hornets went 33-39 last year, but big strides were made. They played good basketball for a young new group. However, injuries derailed any chance of a playoff chance with Gordon Hayward and LaMelo Ball going down for long periods of time.
It might be different this upcoming season if the overall health remains intact. They did lose Cody Zeller and Devonte' Graham but still look poised to improve once again.
The Hornets brought in James Bouknight with the 11th pick in the draft. He is a scoring guard that can handle the ball but also play off of it. They brought in Mason Plumlee and Kelly Oubre Jr. to help in the frontcourt.
Then there is LaMelo Ball coming off of his Rookie of the Year campaign. He looks to take a big leap forward. The Hornets should be fighting for a playoff spot and might even get in. Expect them to hit at least 38 wins this season.
Giannis Antetokounmpo to Win 3rd MVP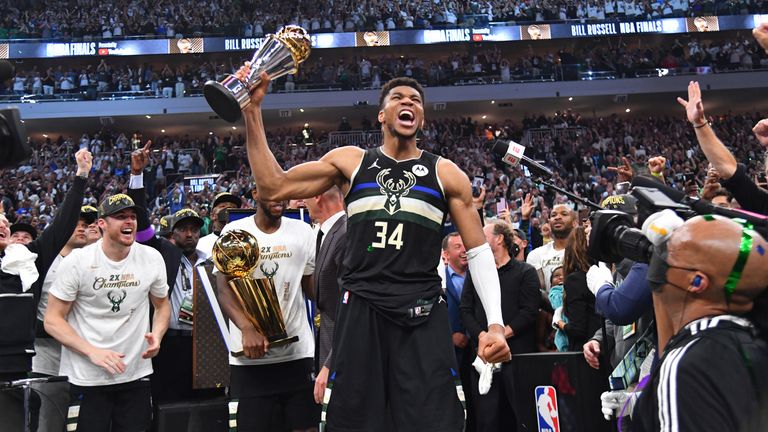 The reigning NBA Finals MVP will look to add some more hardware on his mantle next season. Now that he has established himself as one of the all-time greats at such a young age expect to see him actually be respected in MVP voting.
Giannis Antetokounmpo won back-to-back MVPs in 2019 and 2020, respectively. However, people criticized the media for giving it to him. They felt as though other candidates, such as James Harden and LeBron James, were more deserving.
Last season was another great year for Giannis, but the consensus was that he was not allowed to win MVP. The narrative shifted once he won the title last season, but that has not been realized with his MVP odds. He is currently positioned at the fourth-best odds to win MVP at +850.
His odds are behind Luka Doncic, Joel Embiid, and Kevin Durant. Luka might have the best case, as he is the focal point on the team and rarely misses any games. Furthermore, the plan was for him to win last season before the Dallas Mavericks had a slow start to the season.
Joel Embiid was supposed to win MVP until he got hurt for a decent period of time. The knock-on his chances is that he tends to break down physically during the season.
Then there is Durant. He can put up great numbers, but he has two things hurting his cause. One is that he has been susceptible to injuries over the last few seasons. Second, he is on one of the most powerful superteams ever assembled once again. That hurt him in his stint with the Golden State Warriors, and it might hurt him again with the Brooklyn Nets.
Brooklyn Nets to Win the Eastern Conference
There is no point in delaying the inevitable. The Brooklyn Nets are going to win the Eastern Conference. That is just what it is at this point.
The Philadelphia Sixers got worse and are going through a Ben Simmons fiasco. The Milwaukee Bucks won the title last year, but only due to the injuries that James Harden and Kyrie Irving sustained. That Nets team looked ready to steamroll through the playoffs.
This season should be the same thing, at least within the Eastern Conference. Their odds are sitting at +105, which isn't super high. However, the writing is on the wall.
There is no need to go against the grain. This Nets team got extremely better, bringing in Patty Mills and a few steals in the draft in Cam Thomas and Day'Ron Sharpe.
Put some money on the Nets and watch your bet live on. You will make some money with attaching yourself to the Nets this season.
---
Join our Discord
to leave a question or comment regarding this article. We have sports fans talking betting all day — every day! JOIN THE DISCORD NOW AND QUALIFY FOR PRIZES & BETTING SWAG!
---